IPO News & Calendar a company that specializes in reporting on the latest start-ups and upcoming is delighted to announce the introduction of an enhanced and user-friendly feature on our platform that simplifies your access to our extensive collection of IPO prospectus and the launch of an Android application that is now available on Google Playstore.
Upcoming IPO Brochures
To explore our IPO brochures, simply click on the three dashes at the top right corner of our website, and select "IPO Brochures." There, you'll find a curated list of the most sought-after IPO brochures. Once you've found the IPO you're interested in, click "Download Brochure" to access it. You'll then be directed to a registration page, where you can provide your email address to receive updates on your chosen IPOs.
Some of the more prevailing IPOs that the platform has drafted brochures for include The 'Canva IPO Prospectus', 'The Discord IPO Guide', and 'The Navan IPO Prediction'.
Though, the most recent has to be the Boston Dynamics IPO. News of the tech company going public first broke on the IPO News website in the spring of 2023. Yet, there was no definite date as to when investors would be able to own Boston Dynamics stock.
The platform gave readers a glimmer of hope of owning shares in the Pre-IPO firm. However, this tends to be a more viable option for accredited-as opposed to public-investors.
Fast forward several months later, IPO News reported once again on Boston Dynamic's financial prospects. Although, it still had no news as to when the firm's IPO would take place.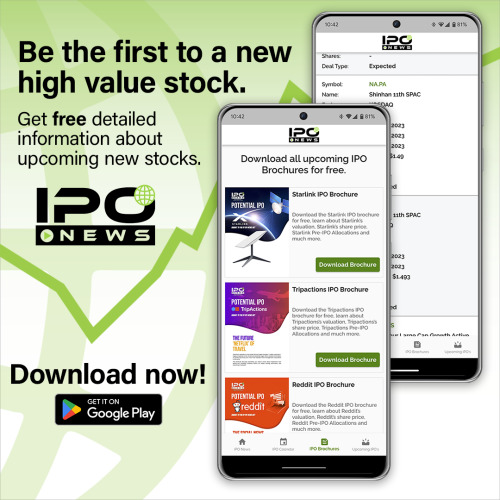 The IPO News and Calendar App
At the time of writing this post, the IPO News and Calendar app is currently only available on Google Play. However, there are also plans for a soon-to-be-released version on the App Store.
The app is designed exclusively for public investors and IPO clients. Users are granted access to a wide range of information, both conveniently and efficiently regarding private equity news and upcoming IPOs directly to their smart devices.
About IPO News and Calendar
IPO News is an independent news platform designed to keep private investors and initial public offering (IPO) clients updated on all the upcoming IPO listings worldwide. Developers of this efficient platform aim to publish information on promising start-ups from around the globe in addition to any upcoming IPOs.
The platform also provides relevant information regarding the most pressing news in the business and finance sectors. From the most recent reports on the Starlink IPO and how to acquire SpaceX stock to news surrounding up-and-coming Birkenstock and Kraken IPO, this news outlet aims to bring its readers some of the most sought-after news of the IPO world.
Media Contact:
David Jefferies
+353 899679030
News Source: Pinion Newswire
Disclaimer. This press release may contain forward-looking statements. Forward-looking statements describe future expectations, plans, results, or strategies (including product offerings, regulatory plans and business plans) and may change without notice. You are cautioned that such statements are subject to a multitude of risks and uncertainties that could cause future circumstances, events, or results to differ materially from those projected in the forward-looking statements, including the risks that actual results may differ materially from those projected in the forward-looking statements.
Original Source of the original story >> IPO News and Calendar Announces Launch of IPO Brochures and Android Application.